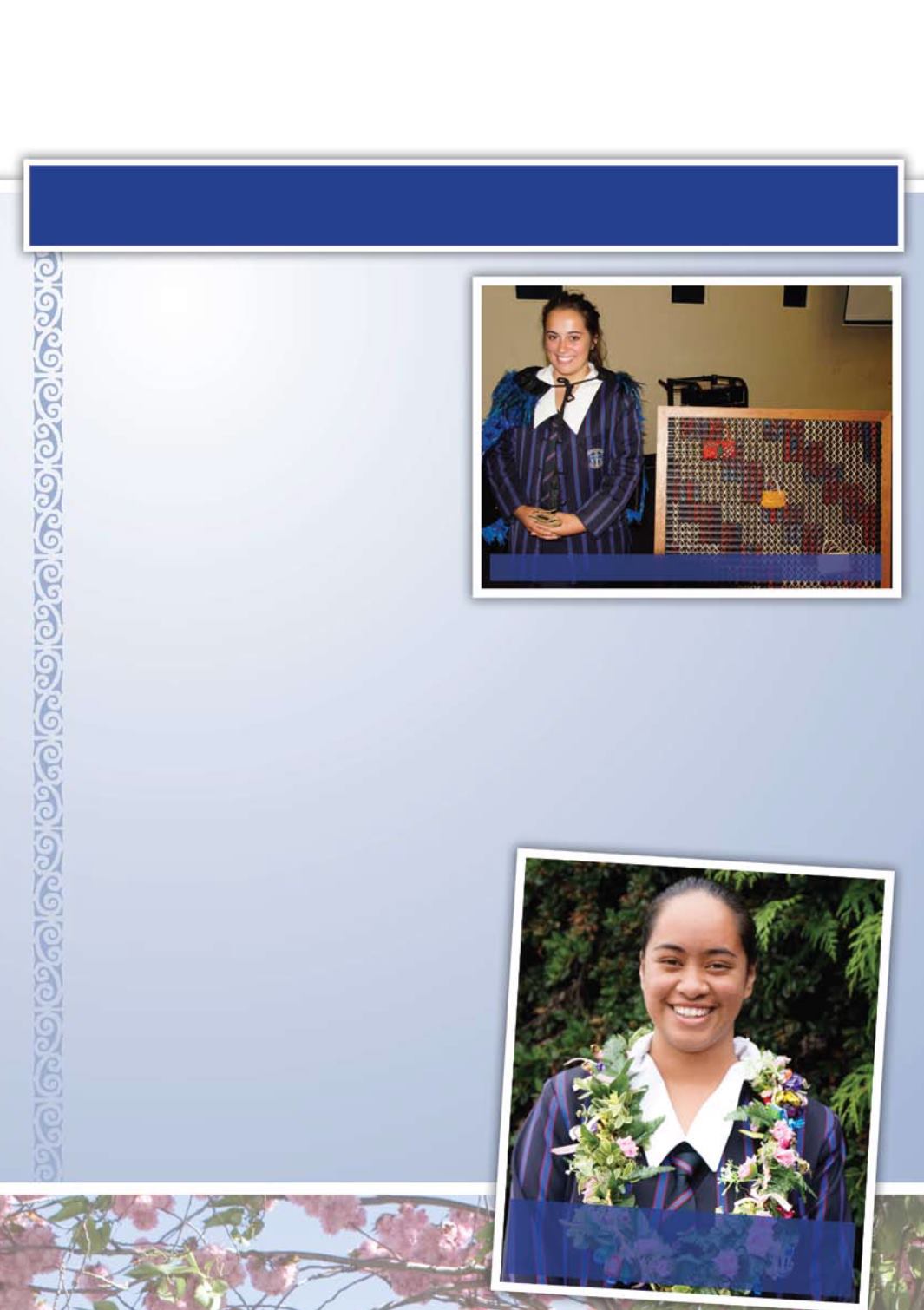 Pasifika Students
MĀori and
Our
Māori
Toku reo toku ohooho
My language, my awakening.
Villa Maria College is committed to honoring the
principals of Te Tiriti OWaitangi. Te Reo Māori is
a compulsory part of our Years 7/8 curriculum
and an optional subject through to Year 13. The
Villa Maria Kaumatua andWhanau Komiti work
to support our Māori students and build strong
connections with their whanau. A Māori mentor
provides additional support for girls in their
development as Māori leaders. We recognise
outstanding academic success of our Māori
students with our annual Iho Pūmanawa Award.
The Iho Pūmanawa Award
This Award is one of the ways we recognise the high academic achievement of our Māori students. The
taonga awarded to the top academic student was gifted to the College by Te Kaiwhakahaere o Ngai Tahu,
Mark Solomon. Senior staff, including the College kaumatua, assesses students' academic results and
interview high achievers to determine the Iho Pūmanawa Award recipient each year.
Kapa Haka
Villa Maria College Kapa Haka group have performed at regional competitions with expert training and
support from staff, parents and whanau. Kapa Haka at Villa Maria provides leadership opportunities for
our students as well as the exploration and expression
of Māori culture through song and dance.
Maiā Matthews, 2013 Iho Pūmanawa Award recipient
Pasifika
Taloha ni, Kia orana, Malo e lelei, Fakaalofa atu,
Ni sa bula, Kia ora, Talofa lava, Greetings
The College values and embraces its Pasifika students.
The Villa Maria Pasifika Cultural Group encompasses
Year 9 to 13 girls and provides a wealth of
opportunities for friendships, support and leadership
roles. An annual fixture for the group is their
participation and performance at the Christchurch
Secondary Schools Pacific Island Festival, sPACIFICally
PACIFIC. Pasifika parents are regularly consulted and
meet together to support the College.
We acknowledge the crucial role we play in the education of our Māori and Pasifika students and are committed
to strengthening the partnership that students, families and their communities have with teachers, principals,
tertiary providers and local and central government.
Catherine Petaia was awarded the SUPREME AWARD
and was named as the top female academic in all of
Canterbury at the sPACIFICally Pacific event.